The Films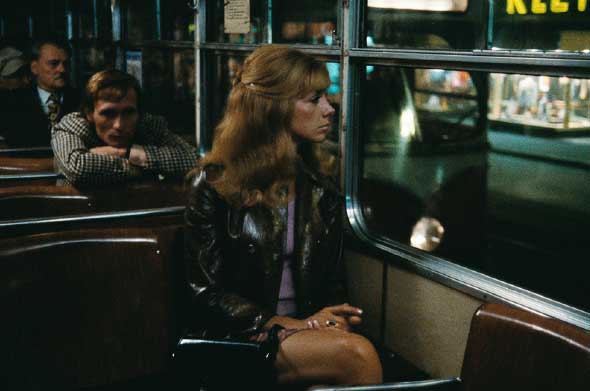 The Goalie's Anxiety at the Penalty Kick
"His technique of using images to keep the plot intact makes The Goalie's Anxiety at the Penalty Kick a milestone in young German cinema."
—Frankfurter Allgemeine
The goalkeeper Josef Bloch (Arthur Brauss) is sent off after committing a foul during an away game. This causes him to completely lose his bearings. He wanders aimlessly through the unfamiliar town, spends the night with the box-office attendant of a movie theater (Erika Pluhar), and strangles her the next morning. But instead of turning himself in or fleeing, Bloch then goes to the country place of his ex-girlfriend (Kai Fischer) and passively waits there for the police to come and arrest him. As Wenders himself has stated, the visual idiom of Alfred Hitchcock's films provided the model for his debut film. He adheres minutely to the thoroughly "cinematic" source, a novel by Peter Handke. With his cameraman Robby Müller and his editor Peter Przygodda—both of whom had already worked with him on his film thesis at the HFF (University of Television and Film Munich)—in The Goalie's Anxiety, he set forth a collaboration that would weld this team together for years.
West Germany/Austria • 1971 • 100 minutes • 35 mm color • Stereo • In German with English subtitles • 1:1.37
4K restoration and new sound mixing, 2014 • 4K DCP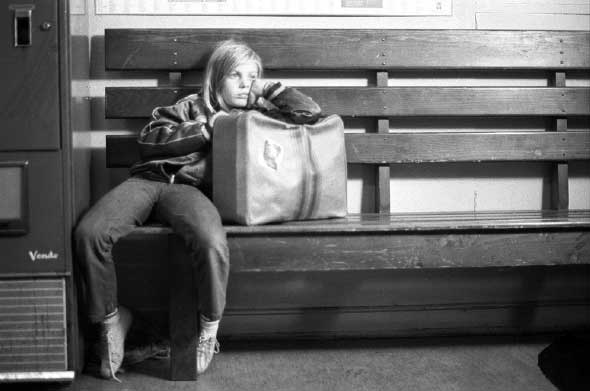 Alice in the Cities
Technically, Alice in the Cities is Wenders's fourth film, but he often refers to it as his first, because it was during this film that he discovered the genre of the road movie. (It would later become the first part of his road movie trilogy, along with Wrong Move and Kings of the Road.) It was also his first film to be shot partly in the U.S. and the first to feature his alter ego, Philip Winter (Rüdiger Vogler). Alice is often compared with Charlie Chaplin's The Kid. In 1974, it won the German Critics Prize.
The German journalist Winter wants to write a story about America but is unable to accomplish anything but a series of Polaroids before disappointedly beginning his journey back home. At the same time, he reluctantly agrees to take little Alice (Yella Rottländer) with him, because her mother (Lisa Kreuzer)—whom he meets in New York on the day before his departure—has urgent business to take care of there. In Amsterdam, the mother then fails to appear as they agreed, so Winter and Alice set out to try to find Alice's grandmother in the Ruhr region. During their search together, their initial mutual dislike gradually transforms into a heartfelt affection.
West Germany • 1974 • 112 minutes • 16 mm blowup to 35 mm black and white • Stereo • In German with English subtitles • 1:1.37
4K scan and 2K restoration, 2014 • 2K DCP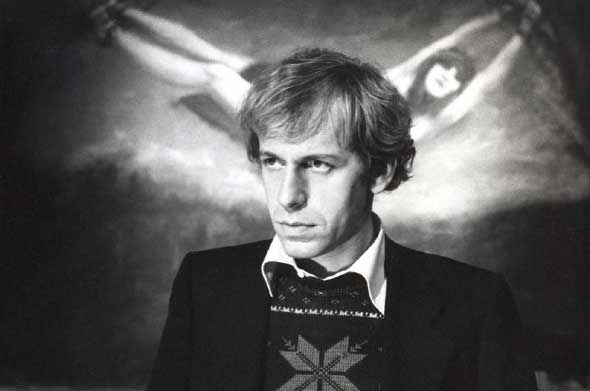 Wrong Move
Glückstadt in northern Germany, Bonn, a palace along the Rhine, a housing project on the outskirts of Frankfurt, and finally the Zugspitze—these are the stations of the journey that the young Wilhelm Meister (Rüdiger Vogler) hopes will save him from the gloomy irritability and despondency that plague him in his hometown. In unfamiliar places, he thinks that he will be able to do what he has always had an uncontrollable drive to do—to write. He wants to become an author. With the journey, which his mother (Marianne Hoppe) gives him permission to make, he hopes to broaden his horizons and, above all, to find himself.
In Goethe's novel Wilhelm Meister's Apprenticeship, which provided the source material for Peter Handke's script, a journey of this kind was still a "genuine movement." In the literature of the nineteenth century, particularly in the German bildungsroman, the topos of the journey is always linked to lasting significant changes and experiences. Traveling is synonymous with the successful search for one's own identity.
But the Wilhelm of Wrong Move must arrive at the painful recognition that today a journey alone no longer leads to the desired goal. His path leads him into an unbroken series of failures, through his own fault and that of all the people he meets on his way: the street singer Laertes (Hans Christian Blech), struggling with his Nazi past, the mute girl Mignon (Nastassja Kinski in her first role), the poet (Peter Kern), and the actress Therese (Hanna Schygulla).
West Germany • 1975 • 103 minutes • 35 mm color • Dolby 5.1 surround • In German with English subtitles • 1:1.66
4K restoration scheduled for late 2015 • 4K DCP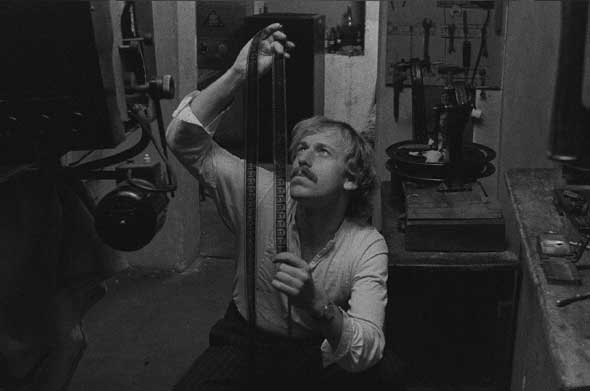 Kings of the Road
Kings of the Road is about a friendship between two men: Bruno, a.k.a. King of the Road (Rüdiger Vogler), who repairs film projectors and travels along the inner German border in his truck, and the psychologist Robert, a.k.a. Kamikaze (Hanns Zischler), who is fleeing from his own past. When Robert drives his old Volkswagen straight into the Elbe River, he is fished out by Bruno. This is the beginning of their shared journey through a German no-man's-land, a journey that leads them from the Lüneburg Heath to the Bavarian Forest. Wenders began the film without a script. Instead, there was a route that he had scouted out beforehand: through all of the little towns along the Wall that still contained a movie theater in this era of cinematic mass extinction. The old moving van with the film projectors in the back becomes a metaphor for the history of film—it is no coincidence that the film is dedicated to Fritz Lang. This "men's story" also treats the themes of the absence of women, of loneliness, and of postwar Germany. At one point, Bruno says to Robert: "The Yankees have colonized our subconscious."
West Germany • 1976 • 175 minutes • 35 mm black and white • Dolby 5.1 surround • In German with English subtitles • 1:1.66
4K restoration, 2014 • 4K DCP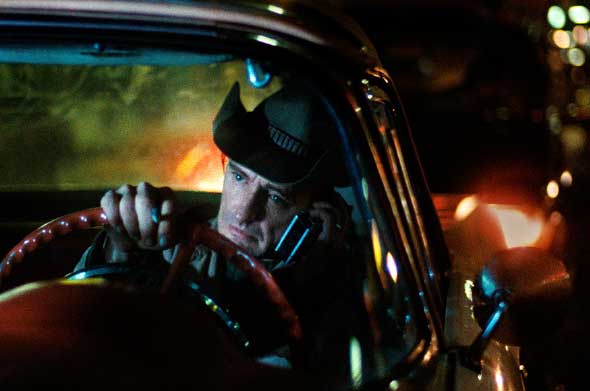 The American Friend
In 1977, The American Friend won the German Critics Prize as well as gold in two categories of the German Film Prize, and it is now considered a cult film. Wenders adapted Patricia Highsmith's novel Ripley's Game for the film. Jonathan Zimmermann (Bruno Ganz) believes that he will soon die of leukemia. The unscrupulous American Tom Ripley (Dennis Hopper) learns of this and exploits Zimmermann's illness for his own purposes. He introduces Jonathan to the underworld figure Minot (Gérard Blain), who offers to hire the terminally ill man as a professional hit man. He is to be paid appropriately for his work and thus enabled to leave something behind for his wife (Lisa Kreuzer) and their child. What does he have to lose, since he is going to die anyway? A friendship develops between the two very different men, and this ultimately leads Ripley to intervene when Zimmermann proves incapable of carrying out an additional murder. The cast of Wenders's film includes not only the directors Hopper and Blain but also filmmakers in many of the supporting roles of gangsters, such as Hollywood legends Sam Fuller and Nicholas Ray, as well as Peter Lilienthal, Daniel Schmid, and Jean Eustache.
West Germany • 1977 • 126 minutes • 35 mm Eastmancolor • Stereo • In German, English, and French, with English subtitles • 1:1.66
4K restoration, 2014 • 4K DCP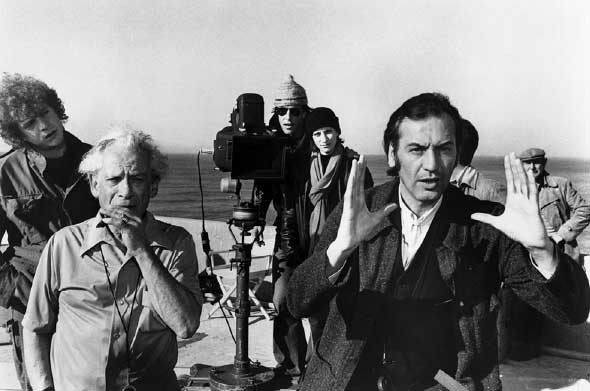 The State of Things
The State of Things is a highly personal film about filmmaking in Europe and America. It is about a film crew stranded at the westernmost tip of Europe. The director, Friedrich Munro (Patrick Bauchau), his cameraman (Sam Fuller), scriptwriter, and actors have been abandoned by their producer. After shooting their last feet of film (they are working on the remake of a low-budget sci-fi thriller), there is nothing left to do but wait. Friedrich finally sets out for Los Angeles to search for the missing producer (Allen Garfield). Friedrich finally finds him on Sunset Boulevard, in his RV, where he is hiding out from the mafiosi or loan sharks who are after him. The two have to pay with their lives for their black-and-white film adventure the following morning. Friedrich continues to "put up a fight" by "shooting back" with his Super 8 camera until the moment of his death. Wenders's parable on filmmaking has also been interpreted as his way of addressing the difficulties that he faced during the production of Hammett, his first film in the United States.
West Germany • 1982 • 121 minutes • 35 mm black and white and color • Stereo • In English and French, with English subtitles • 1:1.66
4K Restoration, 2015 • 4K DCP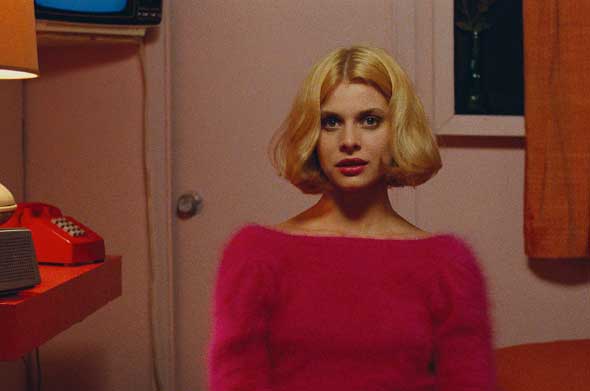 Paris, Texas
Paris, Texas is Wenders's best-known and internationally most successful film. Celebrated by critics, it won a series of important international awards, including the Palme d'Or at Cannes. This unconventional road movie is based on a script by Pulitzer Prize winner Sam Shepard and tells the story of Travis (Harry Dean Stanton), a man who wanders out of Mexico and into the blazing heat of Texas's Big Bend one day. Travis does not speak a word. He also seems to have largely lost his memory. But he is driven by his wish to find his family again: his young wife, Jane (Nastassja Kinski), whose life he seems to have placed in danger through his pathological jealousy, and his seven-year-old son, Hunter (Hunter Carson). For four years, Travis was thought to be dead. His brother, Walt (Dean Stockwell), flies from L.A. to Texas to bring back his lost sibling. Walt and his wife, Ann (Aurore Clément), have become Hunter's foster parents. It is very difficult for the two of them to now give up this role, especially when they learn that Travis wants to take his son in search of Jane. They know nothing about her, except that she probably lives in Houston . . . In addition to impressive performances by Stanton as Travis and Kinski as Jane, a unique soundtrack by Ry Cooder has made Paris, Texas a cult film.
West Germany/France • 1984 • 148 minutes • 35 mm color • Stereo • English • 1:1.66
4K scan, L'Immagine Ritrovata, and 2K restoration, éclair Group, 2014 • 2K DCP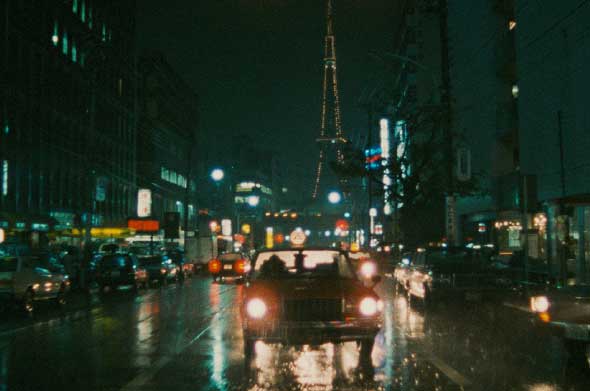 Tokyo-ga
Excerpt from Wenders's narration:
If there were still sanctuaries in our century . . . if there was something like a holy treasure of cinema, for me, that would be the work of Japanese director Yasujiro Ozu. He made fifty-four films. Silent movies in the 1920s, black-and-white films in the 1930s and 1940s, and finally color films until his death on the twelfth of December 1963, on his sixtieth birthday. Although these films are distinctly Japanese, they are also global. In them I recognized all families, in all the countries in the world, as well as my own parents, my brother, and myself. Never before and never again was film so close to its essence and its purpose: showing an image of the human in our century. A usable, true, and valid image, one in which he cannot only see himself but rather learn something about himself. Ozu's work doesn't need my appraisal. And such a "holy treasure of cinema" is just imaginary. So my journey to Tokyo was no pilgrimage. I was curious to see if I could discover something from this time, whether something was left of his work, images perhaps, or people even . . . Or if in the twenty years since Ozu's death so much changed in Tokyo that there was nothing left to be found.
West Germany/U.S. • 1985 • 92 minutes • 16 mm Eastmancolor • Dolby 5.1 surround • English and Japanese with English subtitles • 1:1.33
4K scan and 2K restoration, 2014 • 2K DCP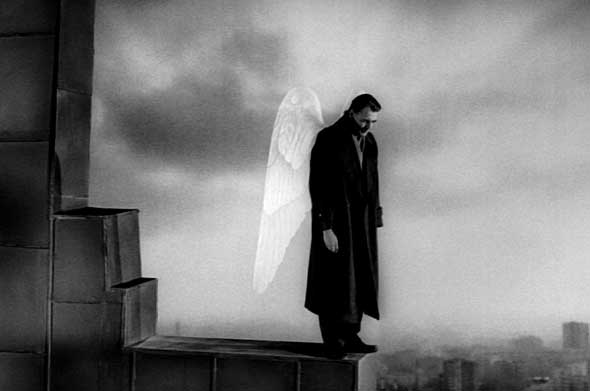 Wings of Desire
Wings of Desire marked Wenders's homecoming and was his first German film after eight years in America. The main characters are guardian angels—benevolent, invisible beings in trench coats—who listen to the thoughts of mortals and attempt to comfort them. One of them, Damiel (Bruno Ganz), wishes to become human after he falls in love with the beautiful trapeze artist Marion (Solveig Dommartin). Peter Falk, playing himself, helps Damiel during his transformation by introducing him to life's little pleasures. The film is narrated from the perspective of the angels, who see the world in black and white. Only when Damiel becomes human does the world of color reveal itself to him. He leaves behind his old friend Cassiel (Otto Sander), who continues to be accompanied by Homer (Curt Bois), the "storyteller of humanity." The film has achieved cult status around the world; in 1998, it was remade under the title City of Angels, with Nicolas Cage and Meg Ryan in the lead roles.
West Germany/France • 1987 • 128 minutes • 35 mm black and white and color • Dolby 5.1 surround • In German, French, and English, with English subtitles • 1:1.33
4K restoration scheduled for 2016 • 2K DCP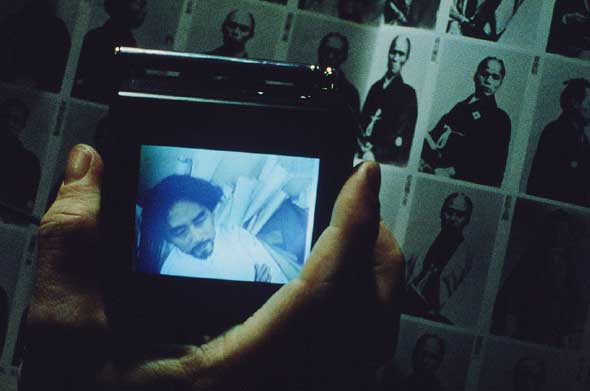 Notebook on Cities and Clothes
This "diary film," as Wenders calls it, investigates the similarities of filmmaking craft to that of the Tokyo-based fashion designer Yohji Yamamoto, who, in the early 1980s, shocked and revolutionized the fashion world. Wenders shot the film mainly on his own, as a one-man crew. During the production, which stretched over a year, Yamamoto and Wenders became friends. Excerpt from Wenders's narration of the film:
Fashion. I got nothing to do with that. At least that was my reaction when the Centre Georges Pompidou in Paris asked me if I would like to make a short film about a fashion designer . . . The world of fashion. I am interested in the world, not in fashion. But maybe my judgment was premature. Why shouldn't I try to approach the topic without prejudices? Why not look at fashion like any other industry, the film industry, for example? . . . Filmmaking . . . should sometimes just be a way of life. Like going for a walk, reading a newspaper, writing something down, driving a car, or making this film. From day to day it writes itself, driven by the curiosity for the topic.
West Germany/France • 1989 • 81 minutes • 35 mm color • Stereo • In English and Japanese, with English subtitles • 1:1.37
4K restoration, 2014 • 4K DCP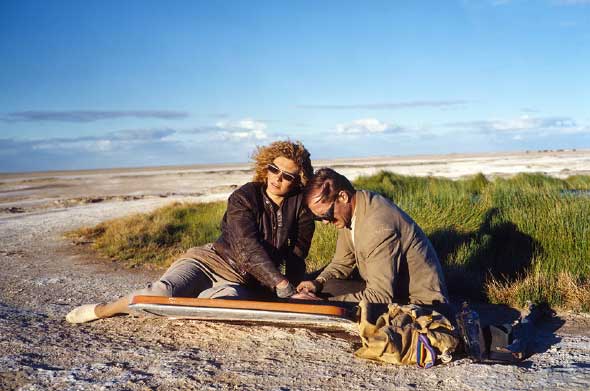 Until the End of the World
(director's cut)
Until the End of the World is "the ultimate road movie," a journey around the globe, a modern-day odyssey—and it certainly bears similarities to Homer's saga. However, the aim of this journey is the spiritual reconciliation between an obsessed father and his lost son, and, in Until the End of the World, Penelope decides to set out in pursuit of Odysseus. In order to enable his blind wife (Jeanne Moreau) to see, Dr. Farber (Max von Sydow) invents a process that makes it possible to transmit the images recorded in the brains of sighted people directly into the visual systems of blind people. Farber's son Sam (William Hurt) sets out on a journey around the world in order to "see" and record the various stations of his mother's life for her. The Frenchwoman Claire (Solveig Dommartin) falls in love with him and sets out in pursuit of him. She, in turn, is followed by the author Eugene (Sam Neill), who is recording her adventure. The film was shot in 1990 and takes place in the near future, around the turn of the millennium. What most interests Wenders here is how humanity learns to deal with images—or becomes their victim. Eugene notes: "In the beginning was the word. What would happen if only the image remained in the end!?" Frustrated with the Reader's Digest version of his film, which was forced upon him by his distributors, Wenders created a director's cut two years after its release: at a length of almost four hours, it lives up to his intentions and to the epic nature of the story.
Germany/France/Australia • 1991 • 295 minutes (director's cut) • Super 35 mm, Eastmancolor • Stereo • English • 1:1.66
4K restoration, 2014 • 4K DCP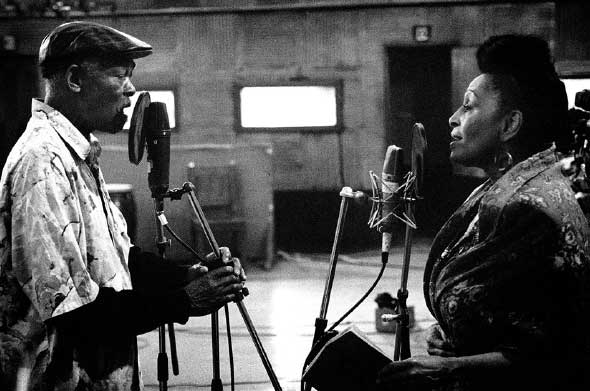 Buena Vista Social Club
With a small film crew, Wenders accompanied his old friend Ry Cooder, who had written the music for Paris, Texas and The End of Violence, on a trip to Havana. Cooder wanted to record his material for Ibrahim Ferrer's solo album at a studio there—following the recording of the first Buena Vista Social Club CD (which had not yet been released at that time). Wenders immersed himself in the world of Cuban music. Over the course of several months, he observed and accompanied the musicians—first at home in Havana; then, weeks later, in April 1998, on their trip to Amsterdam for the first public performance of the band (who had never played together outside a studio); then, still later, in July 1998, to their triumphal concert at New York's Carnegie Hall. He thus followed the old heroes of the traditional Cuban Son music on their path from being completely forgotten to becoming world famous—within the period of just a few months. "I thought, I'll shoot a documentary," Wenders has said, "and here we were, about to witness a fairy tale that no one could have imagined in this form." The music documentary became a cinematic sensation and an international success. Along with an Academy Award nomination for best documentary film, Buena Vista Social Club won the same category at the European Film Awards, the German Film Prize in Gold, Germany's Golden Camera, and the Grand Prize for Film in Brazil, as well as numerous other awards.
Germany/U.S. • 1999 • 105 minutes • Digital Betacam transferred to 35 mm, color • Stereo • In English and Spanish with English subtitles • 1:1.85
2K DCP