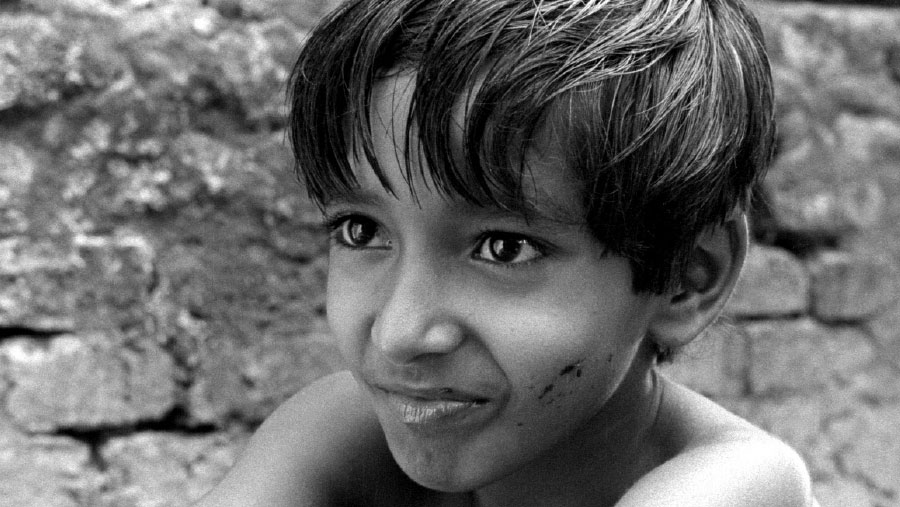 PATHER PANCHALI
Song of the Little Road
India • 1955 • 125 minutes • Black & White • In Bengali with English subtitles • 1.37:1
The release in 1955 of Satyajit Ray's debut, Pather Panchali, introduced to the world an eloquent and important new cinematic voice. A depiction of rural Bengali life in a style inspired by Italian neorealism, this naturalistic but poetic evocation of a number of years in the life of a family introduces us to both little Apu and, just as essentially, the women who will help shape him: his independent older sister, Durga; his harried mother, Sarbajaya, who, with her husband often away, must hold the family together; and his kindly and mischievous elderly "auntie," Indir—vivid, multifaceted characters all. With resplendent photography informed by its young protagonist's perpetual sense of discovery, the Cannes-awarded Pather Panchali is an immersive cinematic experience and a film of elemental power.
AWARDS
Best Human Document, Cannes Film Festival, 1956
Best foreign film, National Board of Review, 1957
Best picture, best director, San Francisco International Film Festival, 1957
CAST
Harihar, Apu's father Kanu Banerjee
Sarbajaya, Apu's mother Karuna Banerjee
Apu Subir Banerjee
Durga, Apu's sister Uma Das Gupta
Indir Thakrun ("Auntie") Chunibala Devi
Young Durga Shampa "Runki" Banerjee
Sejo Thakrun (bitter neighbor) Reba Devi
Nilmoni's wife (kind neighbor) Aparna Devi
Prasanna (schoolteacher) Tulsi Chakraborty
Baidyanath Majumdar (village elder) Binoy Mukherjee
Chinibas (sweet seller) Haren Banerjee
Dr. Harimohan Nag
Chakravarti (village elder) Haridhan Nag
Priest Kshirod Roy
Ranu (Durga's friend) Roma Ganguli
CREDITS
Directed by
Satyajit Ray
Produced by
Government of West Bengal
Screenplay
Satyajit Ray
Based on the novel
Pather Panchali
by
Bibhutibhusan Banerjee
Cinematographer
Subrata Mitra
Original music
Ravi Shankar
Editor
Dulal Dutta
Art director
Bansi Chandragupta
Sound recordist
Bhupen Ghosh
Production manager
Anil Choudhury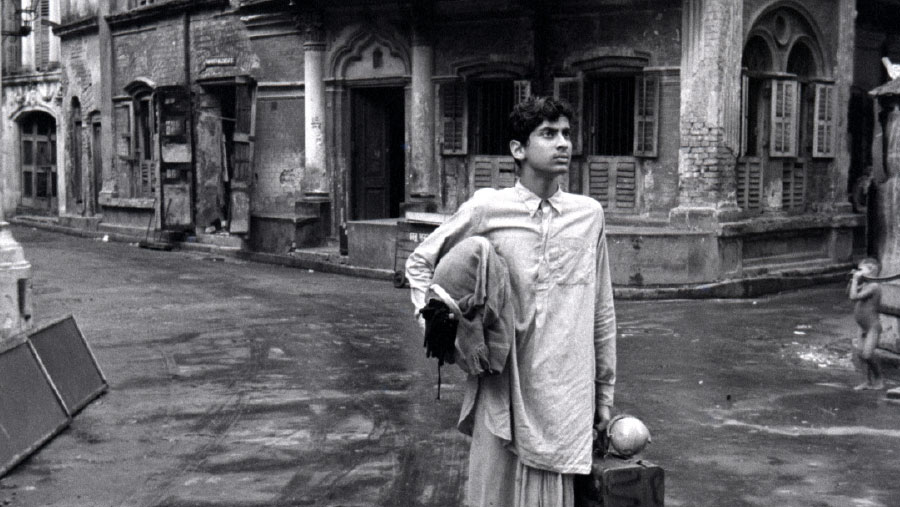 Aparajito
The Unvanquished
India • 1956 • 109 minutes • Black & White • In Bengali with English subtitles • 1.37:1
Satyajit Ray had not planned to make a sequel to Pather Panchali, but after the film's international success, he decided to continue Apu's narrative. Aparajito picks up where the first film leaves off, with Apu and his family having moved away from the country to live in the bustling holy city of Varanasi (then known as Benares). As Apu progresses from wide-eyed child to intellectually curious teenager, eventually studying in Kolkata, we witness his academic and moral education, as well as the growing complexity of his relationship with his mother. This tenderly expressive, often heart-wrenching film, which won three top prizes at the Venice Film Festival, including the Golden Lion, not only extends but also spiritually deepens the tale of Apu.
AWARDS
Golden Lion, Venice Film Festival, 1957
FIPRESCI Prize, Venice Film Festival, 1957
New Cinema Award, Venice Film Festival, 1957
Best director, San Francisco International Film Festival, 1958
CAST
Harihar, Apu's father Kanu Banerjee
Sarbajaya, Apu's mother Karuna Banerjee
Student Apu Smaran Ghosal
Adolescent Apu Pinaki Sengupta
Bhabataran, Sarbajaya's uncle Ramani Sengupta
Nanda-babu (upstairs neighbor) Charuprakash Ghosh
Headmaster Subodh Ganguli
School inspector Moni Srimani
Schoolteacher Hemanta Chatterjee
Teli (Bhabataran's patron) Ranibala
Nirupama, Teli's daughter Sudipta Roy
Anil Ajay Mitra
Kalicharan (Harihar's guest) Kali Banerjee
Akhil (press proprietor) Kalicharan Roy
Moksada Kamala Adhikari
Lahiri (Sarbajaya's employer) Lalchand Banerjee
Lahiri's wife Santi Gupta
Pande (first-floor neighbor) K. S. Pandey
Pande's wife Meenaksi Devi
Abinash (schoolteacher) Anil Mukherjee
Doctor Harendrakumar Chakravarti
Palwan Bhaganu Palwan
CREDITS
Directed and produced by Satyajit Ray
Screenplay Satyajit Ray
Based on the novels Pather Panchali and Aparajito by Bibhutibhusan Banerjee
Cinematographer Subrata Mitra
Original music Ravi Shankar
Editor Dulal Dutta
Art director Bansi Chandragupta
Sound recordist Durgadas Mitra
Production manager Anil Choudhury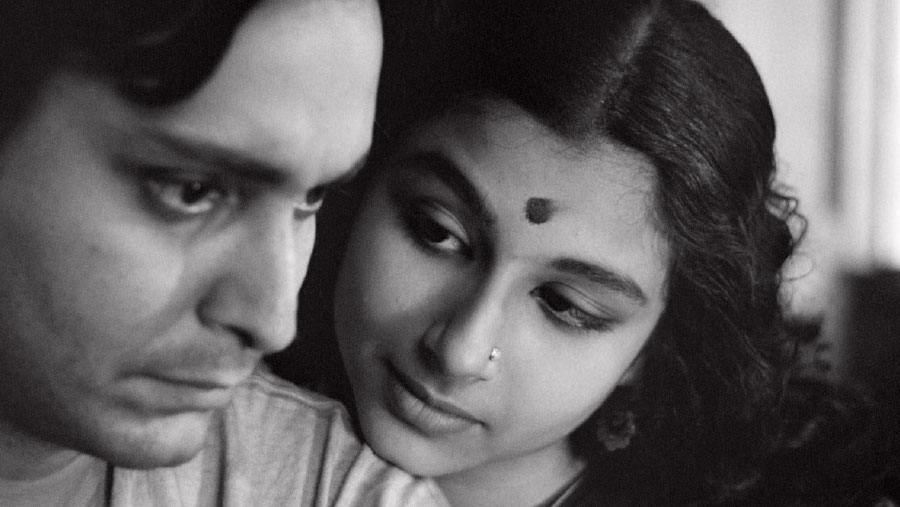 Apur Sansar
The World of Apu
India • 1959 • 105 minutes • Black & White • In Bengali with English subtitles • 1.37:1
By the time Apur Sansar was released, Satyajit Ray had directed not only the first two Apu films but also the masterpiece The Music Room, and was well on his way to becoming a legend. This extraordinary final chapter brings our protagonist's journey full circle. Apu is now in his early twenties, out of college, and hoping to live as a writer. Alongside his professional ambitions, the film charts his romantic awakening, which occurs as the result of a most unlikely turn of events, and his eventual, fraught fatherhood. Featuring soon to be Ray regulars Soumitra Chatterjee and Sharmila Tagore in star-making performances, and demonstrating Ray's ever-more-impressive skills as a crafter of pure cinematic imagery, Apur Sansar is a breathtaking conclusion to this monumental trilogy.
AWARDS
Best foreign film, National Board of Review, 1959
Sutherland Trophy, British Film Institute Awards, 1959
CAST
Apu Soumitra Chatterjee
Aparna Sharmila Tagore
Kajal, Apu's son Alok Chakraborty
Pulu, Apu's friend Swapan Mukherjee
Sasinarayan, Pulu's uncle Dhiresh Majumdar
Sasinarayan's wife Sefalika Devi
Landlord Dhiren Ghosh
Bridegroom Tusar Banerjee
Murari, Aparna's brother Abhijit Chatterjee
CREDITS
Directed and produced by Satyajit Ray
Screenplay Satyajit Ray
Based on the novel Aparajito by Bibhutibhusan Banerjee
Coproducer Aminyanath Mukherji
Original music Ravi Shankar
Cinematographer Subrata Mitra
Editor Dulal Dutta
Art director Bansi Chandragupta
Sound recordist Durgadas Mitra
Production manager Anil Choudhury