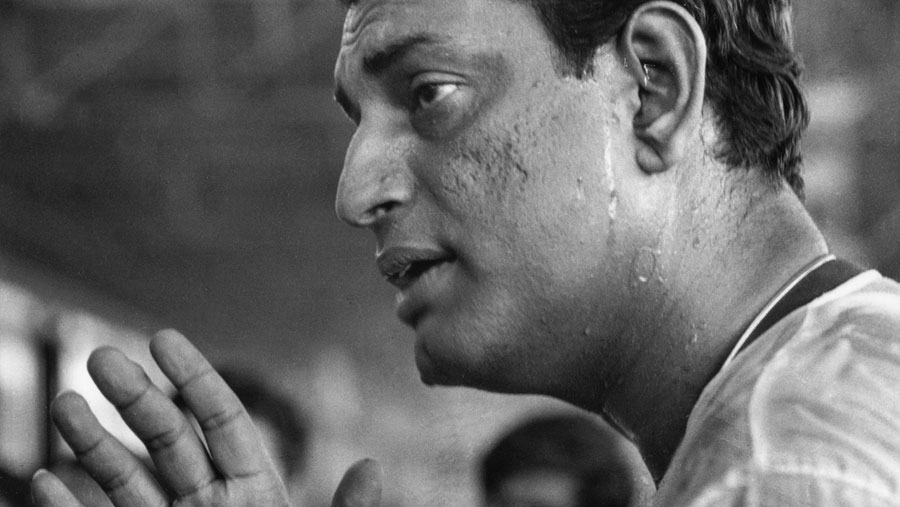 SATYAJIT RAY
BIOGRAPHY
Satyajit Ray was an only child, born in 1921 into a creative, intellectual family of Brahmos—members of a Christian-influenced Hindu movement—in Kolkata. His grandfather, Upendrakishore Ray, was a renowned writer, composer, and children's magazine founder, and his father, Sukumar Ray, was a writer and illustrator, a household name for his nonsense verse. Satyajit had an unsurprising early facility with the arts, both musical and visual. His father died when he was not yet three, and he lived with his mother and an uncle in the southern part of Kolkata, where he taught himself to read Western classical music and discovered Hollywood movies.

After finishing college, beginning in 1940, Ray studied art for two and a half years in Santiniketan, at the university founded by the great Bengali intellectual, writer, and artist Rabindranath Tagore, who would become one of the most important influences in his life. Returning to Kolkata, Ray found work as a graphic artist at a British-run advertising agency and a Bengali-run publishing house, and cofounded the Calcutta Film Society, where he and other film lovers watched mostly European and Hollywood movies and engaged in lengthy addas (coffeehouse conversations) about what was missing from Indian cinema, which was still primarily a Bollywood landscape. While working full-time, Ray began writing screenplays on the side, for his own enjoyment and occasionally for pay, deepening his understanding of cinematic storytelling.

In 1949, Ray met the great French director Jean Renoir, who was location scouting in Kolkata for The River. When Renoir asked if he had a film idea of his own, Ray described the story of Pather Panchali, a novel by Bibhutibhusan Banerjee for which Ray had once designed woodcut illustrations and that struck him as being highly cinematic in nature. Renoir encouraged Ray's love of film and his pursuit of the project.

In 1950, Ray and his wife, Bijoya, moved to England, where he would work at his advertising agency's London office. During those six months, the couple saw ninety-nine films, including Vittorio De Sica's recent neorealist masterpiece Bicycle Thieves. It was this film that had the strongest impact on Ray, as it led him to the discovery that one could make a film with nonprofessionals, on location, largely outdoors, and on a shoestring budget. In late 1950, on the boat back to Kolkata, he wrote a first treatment for Pather Panchali.

In 1955, after three years of shooting and editing that was intermittent due to a lack of financing, Ray completed his debut film, which, after legendary screenings in New York and Cannes, officially put him on the map during the golden age of art-house cinema; with Pather Panchali, Ray took his place alongside Ingmar Bergman, Federico Fellini, and Akira Kurosawa as one of the most important international filmmakers. He went on to close out the 1950s with a string of masterpieces, including the two films that rounded out The Apu Trilogy, Aparajito (1956) and Apur Sansar (1959), and The Music Room (1958).

Over the course of his thirty-six-year career, Ray would direct twenty-eight features. He also designed posters and composed musical scores for many of his own films. He won awards at the world's major film festivals, including Cannes, Venice, and Berlin. In 1992, thanks to a campaign led by several Hollywood heavyweights, including Martin Scorsese and Francis Ford Coppola, the Academy of Motion Picture Arts and Sciences awarded him an honorary lifetime achievement Oscar, which he accepted from a hospital bed in Kolkata, where he had been admitted for a heart condition. Less than a month later, Ray died at the age of seventy. His work remains an inspiration to filmmakers around the world.
Filmography
1955 Pather Panchali (Song of the Little Road)
1956 Aparajito (The Unvanquished)
1958 Jalsaghar (The Music Room)
1958 Paras Pathar (The Philosopher's Stone)
1959 Apur Sansar (The World of Apu)
1960 Devi (The Goddess)
1961 Teen Kanya (Three Daughters)
1961 Rabindranath Tagore (documentary)
1962 Kanchenjungha
1962 Abhijaan (The Expedition)
1963 Mahanagar (The Big City)
1964 Charulata (The Lonely Wife)
1965 Kapurush-o-Mahapurush ("The Coward" and "The Holy Man")
1965 Two (television short)
1966 Nayak (The Hero)
1967 Chiriakhana (The Zoo)
1969 Goopy Gyne Bagha Byne (The Adventures of Goopy and Bagha)
1970 Aranyer Din Ratri (Days and Nights in the Forest)
1970 Pratidwandi (The Adversary)
1971 Sikkim (documentary)
1972 Seemabaddha (Company Limited)
1972 The Inner Eye (documentary short)
1973 Ashani Sanket (Distant Thunder)
1974 Sonar Kella (The Golden Fortress)
1976 Jana Aranya (The Middleman)
1976 Bala (documentary short)
1977 Shatranj Ke Khilari (The Chess Players)
1979 Joi Baba Felunath (The Elephant God)
1980 Hirak Rajar Deshe (The Kingdom of Diamonds)
1981 Sadgati (Deliverance, television movie)
1981 Pikoo (Pikoo's Day, television short)
1984 Ghare Baire (The Home and the World)
1987 Sukumar Ray (documentary short)
1989 Ganasatru (An Enemy of the People)
1990 Sakha Prasakha (Branches of the Tree)
1991 Agantuk (The Stranger)
Photograph of Satyajit Ray © Marc Riboud/Magnum Photos